2D Echo
An echocardiography is referred as Cardiac echo or simple echo.
Echocardiography uses standard two-dimensional, Doppler ultrasound to create images of the heart.
Echocardiography is routinely used as non invasive tool for the diagnosis of various heart problems like Cardiac failure, cardiac ischemia.
It gives helpful information regarding shape of heart, pumping capacity and extent and location of tissue damage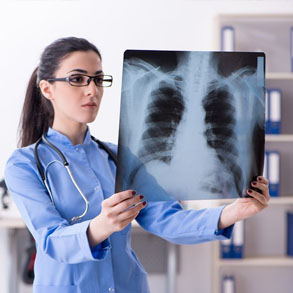 Echocardiography can help to detect cardiomyopathies, such as hypertrophic cardiomyopathy, dilated cardiomyopathy, and many others.
We have one of the best machine for conducting this test. ( GE Logiq F6) GE having first installation of this machine at our center. We are the privileged customer of GE.
EEG
An electroencephalogram (EEG) is a test used to evaluate the electrical activity in the brain. Brain cells communicate with each other through electrical impulses. An EEG can be used to help detect potential problems associated with this activity.
The test tracks and records brain wave patterns. Small, flat metal discs called electrodes are attached to the scalp with wires. The electrodes analyze the electrical impulses in the brain and send signals to a computer, where the results are recorded.
The electrical impulses in an EEG recording look like wavy lines with peaks and valleys. These lines allow doctors to quickly assess whether there are abnormal patterns. Any irregularities may be a sign of seizures or other brain disorders.
EEG are used to confirm or rule out various conditions, including:
Seizure disorders (such as epilepsy)
A head injury
A brain tumor
Encephalitis (an inflammation of the brain)
Encephalopathy (a disease that causes brain dysfunction)
Memory problems
Sleep disorders
Stroke
Dementia
ECG
An ECG is referred as electrocardiogram.
We have 12 Channel electrocardiograph machine which is best in class.
Electrocardiograph is routinely used as non invasive tool for the diagnosis of various heart problems like Cardiac failure, cardiac ischemia.
It gives helpful information about acute and chronic ischemia, heart block,etc.
PFT
Pulmonary function tests (PFTs) are a group of tests that measure how well your lungs work. This includes how well you're able to breathe and how effective your lungs are able to bring oxygen to the rest of your body.
PFTs can help diagnose:
Asthma
Allergies
Chronic bronchitis
Respiratory infections
Lung fibrosis
Bronchiectasis, which is a condition in which the airways in the lungs stretch and widen
Chronic obstructive pulmonary disease (COPD), which used to be called "emphysema".
Asbestosis, which is a condition caused by exposure to asbestos.
Sarcoidosis, which is an inflammation of your lungs, liver, lymph nodes, eyes, skin, or other tissues
Scleroderma, which is a disease that affects your connective tissue
Pulmonary tumor
Lung cancer