An endoscopy is a procedure where the inside of your body is examined using an instrument called an endoscope.
An endoscope is a long, thin, flexible tube that has a light source and camera at one end. Images of the inside of your body are relayed to a television screen.
Endoscopes can be inserted into the body through a natural opening, such as the mouth and down the throat, or through the bottom.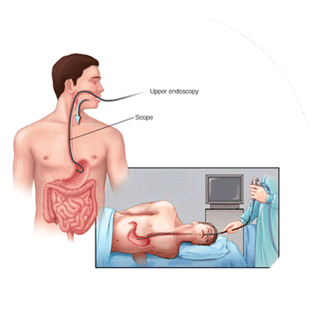 An endoscope can also be inserted through a small cut (incision) made in the skin when keyhole surgery is being carried out.
What happens during an endoscopy
Endoscopies are usually carried out in hospitals.
Before having an endoscopy
Depending on what part of your body is being examined, you may be asked to avoid eating and drinking for several hours beforehand.
You may be given a laxative to help clear stools from your bowels if you are having :
a colonoscopy to examine the large intestine
a sigmoidoscopy to examine the rectum and lower part of the bowel
In some cases, you may also need antibiotics to reduce the risk of an infection. If you're taking a medicine to thin your blood, such as warfarin or clopidogrel, you may need to stop taking it for a few days before having an endoscopy. This is to prevent excessive bleeding during the procedure.
However, don't stop taking any prescribed medicine unless your GP or specialist advises you to do so.